Henan Sanders Abrasives CO.,Ltd is a professional manufacturer of abrasive cloth processing. Our company mainly specializes in radial flap disc, flap wheel, flap disc, flap wheel with shank, abrasive belt and kinds of fiberglass backing plates. After several years of technological innovation and development, the company successfully developed and built flap wheel, flap disc production line and fiberglass backing plate production line, as well as successfully achieved large-scale production of abrasive cloth polishing abrasive.
This article mainly introduces some flap disc produced by the Sanders abrasives. It is also known by domestic and foreign customers as high quality products.
Sanders Flap Disc with Ceramic Grain
The ceramic abrasive is a high-tech product with self-sharpening properties, it ensures consistent strong cutting with a large amount of removal. At present, the main models of the Sanders are XF870 (super-coating), XF850 (super-coating) and XF760 and suitable for grinding all kinds of chrome steel, chromium nickel steel, stainless steel, high alloy steel, nickel base alloy, titanium alloy, brass and bronze, etc.
Ceramic abrasive from Sanders abrasives products designed for high removal rates (high grinding efficiency). Customers who use Sanders ceramic abrasive flap disc will get high cutting rate and the service life of the abrasive will be extended unusually due to the inherent self-sharpening ability of the abrasive particles in the flap disc. In addition, ceramic abrasive products are exceptional because of the cold grinding process. Cold grinding makes it possible to extend the grinding time and avoid burnt discoloration of the work-piece surface. With high toughness, it is especially suitable for machining the surface of ultra-hard work-pieces.
Sanders Flap Disc with Zirconia Alumina
Flap Disc with Zirconia Alumina is imported from Korea Deer and Germany VSM abrasive cloth with Zirconia Alumina as the material. The fiberglass backing plates are produced by Henan Yihong Abrasives Co.,Ltd for nearly 20 years of experience in it. The fiberglass backing plate of Henan Yihong Abrasives Co.,Ltd is a hard resin cloth base with excellent resistance to strong tensile force and strong impact force. So Sanders Flap Disc with Zirconia Alumina has excellent durability and sharpnes. It's suitable for moderate or heavy load grinding, high wear resistance and excellent overall cost performance.
Zirconia Alumina abrasive grain is versatile and can be applied to various metal materials and machines for example: automatic grinding, mechanical hand grinding, desktop grinding, manual tool grinding. The main types of Zirconia Alumina raw materials are VSM ZK765X, ZK713X and Taurus KX563.
Sanders Flap Disc use German technology and durable heavy grinding design to make it have long service life. It is mainly used for rough grinding, deburring, wood grinding and polishing of metals, high carbon steel and stainless steel. It's suitable for rough grinding and deburring for metal, high carbon steel and stainless steel, polishing and polishing for alloy steel, cast iron and non-ferrous metals.
Sanders Flap Disc with Aluminium Oxide
Flap Disc with Aluminium Oxide consists of high-quality Aluminium Oxide abrasive cloth and fiberglass backing plate that is impervious glue, high strength and good toughness. This flap disc has excellent durability, wear-resistant, sharpness, high grinding efficiency, good flexibility, high tensile and better bending strength, low noise and no clogging. It's suitable for mental surface grinding and polishing, weld seams grinding, rust removing. It has the advantages of high efficiency, long life, large amount of grinding, no discoloration of the work-piece, sharper grinding, lighter feel and large spark.
Consistent quality and perfect process mean maximum safety and excellent product performance. Our raw material Aluminium Oxide abrasive cloth adopts full resin binder and X-type blended fabric matrix, which the main models are GXK51-Disc, GXK51-B. It's suitable for the production and processing of flat flap disc, flap disc, radial flap disc, Korean flap disc, flap wheel, abrasive belts,etc.The fiberglass backing plate of flap disc is mesh cloth, nylon, plastic, steel paper, etc., which the blades are different in size and are evenly distributed in a fan shape.The flap disc are used for welding seams, grinding positive burrs, which are interchangeable with depressed center grinding wheel.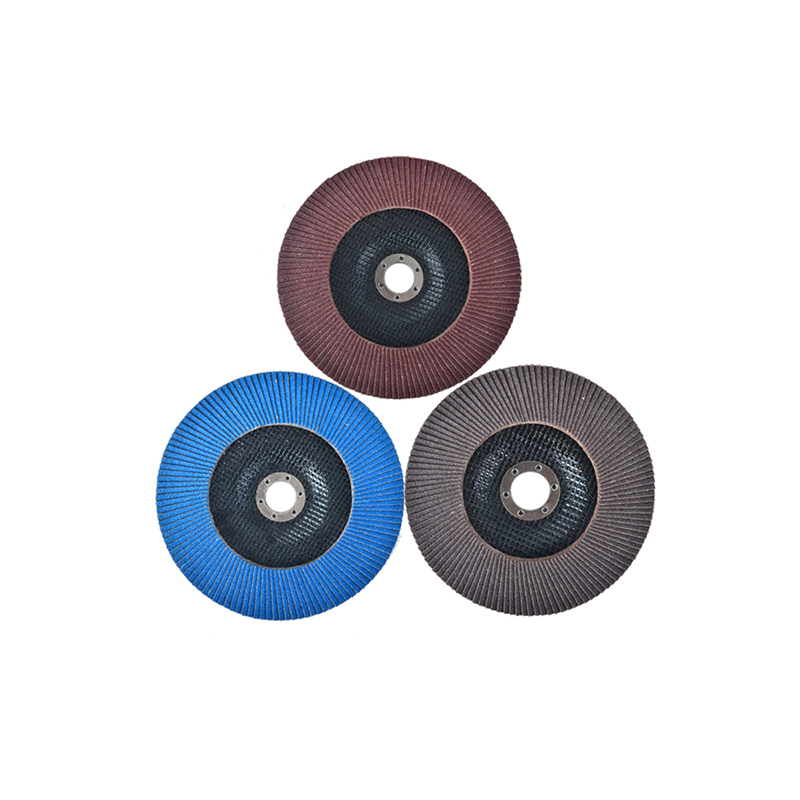 The flap disc has the advantage of good flexibility, high working efficiency, good heat dissipation and low noise:
1. The characteristics of high hardness on the outer surface of the hot rolled tube are designed to produce a special resin abrasive cloth to make flap disc, which can increase its durability by 20% to 30% .
2. Moderate adjustment of the abrasive composition to sharpen the grinding, good cut-in, suitable for surface polishing.
3. The abrasive cloth flap disc has high strength and flexibility and is not easy to break.
4. The flap wheel adopts high-performance adhesive and bonding process. The flap wheel is solid and can withstand large impact forces.
5. The balance of the flap wheel is high and there is no strong vibration during high speed operation.
Web: www.yhabrasives.com
Email: info@yihongabrasives.com