Mylar film sand disc. The surface and ordinary sandpaper, sandcloth is not different, is attached to a thin substrate on a layer of abrasive, but in the use of polyester film sandpaper and paper base, cloth base is different.
The substrate layer is composed of PET polyester film. This is a colorless transparent, shiny, strong toughness, good elasticity of the film.On the substrate layer is the binder layer, which is composed of at least one layer of base glue close to the substrate layer and at least one layer of compound glue covering the said base glue. The adhesive layer is the abrasive, abrasive through the bottom adhesive and adhesive adhesion to the substrate layer. At the top is a surface treatment coating, consisting of a clear film, which covers the abrasive and the compound
In the process of production and processing, the surface will be more flat, the strength will be higher, the elongation will be smaller. Compared with traditional sand cloth, sandpaper, the special point is the use of polyester film substrate. Polyester film thin and high strength, very suitable for the application of super hard abrasive coated abrasives, so that the processing performance of abrasives is more excellent.
Of course, in addition to diamond, CBN and other super hard abrasive, it can also be supplemented by corundum, silicon carbide and other ordinary abrasive, in order to cooperate with different processing objects.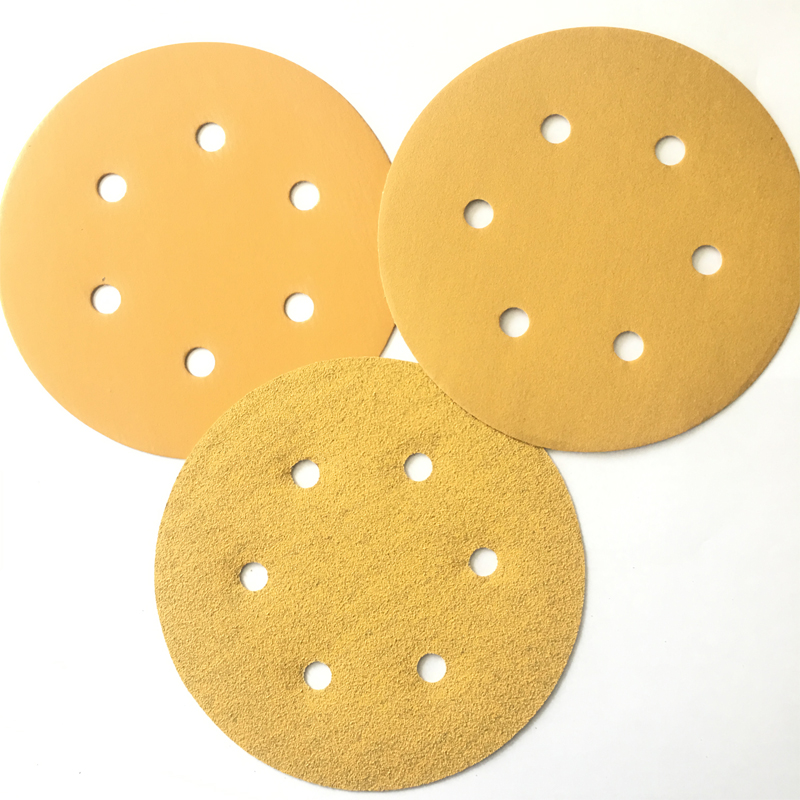 Mylar film sand disc Advantages: when the grinding intensity is large, it is not easy to damage, especially suitable for polishing the edge of the workpiece, the sand surface is not folded, not easy to be torn; Polyester film substrate can be more closely bonded with the abrasive, so there is less sand phenomenon; Mylar film substrate has good flatness and strong absorbency. When polishing the product, it is not easy to deform, making the polishing surface smoother, especially the performance of fine-grained sand is more prominent. Polyester emery cloth although very thin, but the strength is high, the toughness is good, the anti-blocking effect is also very good.
Mylar film sand disc is widely used in the dry grinding and polishing of wood, paint, metal and other materials. It includes the polishing of mechanical equipment such as automobiles, hulls and machine tools and the polishing of precision instruments.
Mylar film sand disc used for grinding and polishing all kinds of metal products, stainless steel products, non-ferrous metal plate, impeller, blade and other metal parts.
Mylar film sand disc used for lacquer polishing of high-grade furniture and wood products and fine grinding and polishing of rattan products and handicrafts.
Mylar film sand disc used for polishing Musical Instruments, such as paint surface, putty, etc., can also be used in jade, jewelry, steel pipe, plastic shell, etc.
Especially in the field of precision grinding and difficult to process materials, such as aircraft, automobile engines and other manufacturing fields, performance is better.