Abrasive cloth slitting machine

This machine is equipped with well-known brand frequency conversion motor, through the advanced control system set, the product dynamic performance is good, high precision, response is fast, high stability, to achieve higher production efficiency, is the industry's preferred abrasive cloth slab-type.
Abrasive cloth slitting machine system includes
Professional CNC system for slitting abrasive cloth (intelligent rectifying machine configuration, common models do not have this configuration) :
L precision drive system
Precision pneumatic control system
Automatic feeding auxiliary system: feeding system, air pump, air pipe, etc
1 year warranty (except consumables, consumables include cutting knives, sealing rings, etc.)
Technical parameters:
Product name: abrasive cloth slitter
Main machine appearance size (mm) : 2200*2200*1200
Voltage: 380V 50HZ
Machine power: 3.5kw
Weight: 1000 kg
Cutting speed: 4-8 min/m
Applicable to emery cloth width: 1460MM
Applicable feeding length: 50-120
Applicable width of strip: 14mm-22mm
Motion control system: imported inverter + brand reducer + variable frequency motor
Feeding system: yade polite cylinder
Core configuration features:
1. Internationally advanced construction machinery structure mechanical design, selected high-quality alloy materials, by the professional CNC machining center overall fine milling fine grinding processing, one molding, stable and durable.
2. High-strength welding body, tempering aging treatment, five-face milling, drilling and tapping, to ensure the rigidity and accuracy of the equipment, stable and non-deformation.
3. Pneumatic device adopts high precision transmission mechanism, equipped with advanced international standard installation mode, quick and accurate response, good wear resistance.
4. Professional brand electrical components and industrial control system with perfect functions and stable performance.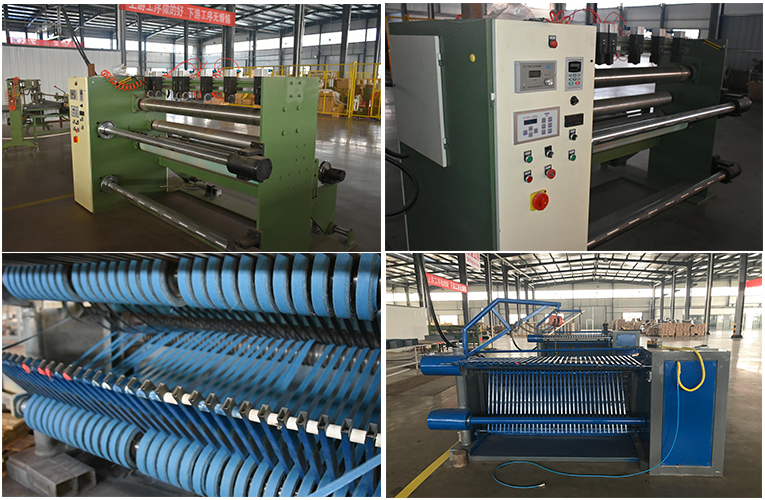 Equipment operation characteristics:
1. USES scissors cutting technology, precision mechanical action structure, uniform cutting and smooth, easy to learn.
2. imported frequency converter, brand frequency conversion motor, feeding adopts pneumatic automatic feeding, loading and unloading is convenient.
3. winding adopts straight push wheel, to ensure that the winding is flat and level.
4. high material utilization, emery cloth length and width adjustable precision, simple operation and fast.
5. spindle and circular knife use CVT system, can work in high and low adjusting speed and positive &negative switching control.
6. puller package rubber roller made of imported rubber surface with precision cylindrical grinding machine processing, deformation, discharge is flat and level.
7. guide roller part, using chrome-plated steel tube, each treated with dynamic balance.
Main functions:
The emery cloth slitter adopts the new design concept, and carries out the integration and optimization of each part based on the previous generation of products, making the whole machine structure more precise and stable, and effectively improving the stability and durability of products.Sand cloth slitting machine is suitable for 1.5m wide, 50-120m long various brands of sand cloth volume slitting, strip width can be customized according to customer requirements.